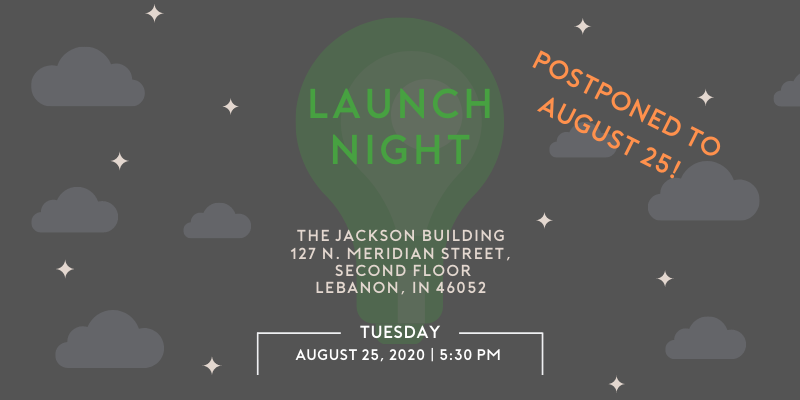 Launch Night
The Boone County Economic Development Corporation is hosting a new entrepreneurial pitching competition focused on businesses who are just getting started and need mentorship support and feedback. Our mission is to help grow and promote small businesses and start-ups in Boone County.
What is Launch Night?
Launch Night is a pitching competition for individuals to present their business ideas in front of local small business owners and community members to gain exposure and see what opportunities exist locally. As an advocacy platform, Launch Night facilitates a community-based event which raises awareness of what it takes to be a local small business in and surrounding Boone County.
When and where?
Launch Night is on Tuesday, August 25 from 5:30-8 p.m. at The Jackson Building located on the Square in Lebanon at
127 N. Meridian Street
, Second Floor of the Jackson Building.
Registration and networking begins at 5:30 p.m. Pitching will begin at 6 p.m.
Who can pitch?
Any individual who is interested in starting a small business to serve the local community and is interested in hearing feedback about their business idea. Specific preference will be shown towards business ideas which fulfill a void in one of Boone County's mainstreets or downtown areas. All who want to start their business in Boone County, Indiana are eligible to apply.
What's the prize?
The winner will receive a $2,500 reimbursable, cash grant to be used for business services. Services could include items, such as business consulting, rent payments, website design, and others, which will help promote and best prepare the future business owner. In addition, there will be several other in-kind donations.
Also awarded will be the Jackson IG People's Choice Award judged by the event's attendees, which will be a cash prize.
How do I purchase tickets?
In-Person tickets are sold-out! 
Tickets to attend virtually can be purchased for $5 here. 
A portion of all ticket sales will be utilized for the Jackson IG People's Choice Award, where the audience will be able cast their vote for the best business idea presented. While purchasing tickets for the virtual attendance, you are welcome to make a donation to the Jackson IG People's Choice Award as well.
Proceeds from ticket sales are re-invested in programming for Boone County small businesses and entrepreneurs offered by the Boone EDC.
Have additional questions?
Virtually attend the event