On Friday October 6, 2023 more than 270 volunteers will join the Boone EDC for the 4th annual Boone EDC Day of Service, giving local companies and community organizations the opportunity to make a positive impact and promote the spirit of volunteerism.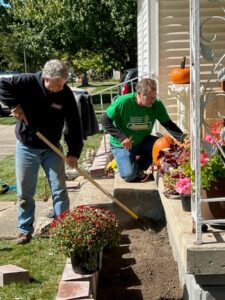 In 2020, the Boone EDC hosted the first Day of Service and included 14 local companies, 12 project locations and 105 volunteers. The program has grown, and this year, 14 companies will bring a combination of over 270 employees to volunteer an average of 6 hours at the average rate of $31.80 per hour and employee. These companies will give back over $51,000 worth of volunteer hours on this one day to organizations who need assistance. As the Indiana Chamber Community of the year, Boone County continues to bring attention to the positive impact those who live, work and own businesses do for this community.
"This is my favorite day of the year at the Boone EDC as we promote the importance of giving back to our community and those in need. This gives the companies who call Boone County home a chance to show their leadership and company culture by giving back. It is a win-win for the companies, the employees, the organizations who need the assistance, and our community" says Molly Whitehead, Executive Director of Boone EDC.
Since 2020, five companies (The Town of Whitestown, Ken's Foods, RL Turner, FTIC and Hendrickson) have continually committed time and resources to the annual Day of Service. The Boone EDC also recognizes Chick-fil-a Whitestown, Traditions Realty, Forza Commercial Real Estate and Festool as sponsors of the Day of Service.
"As a family-owned business, Festool places a high value on building a better future for our employees, our customers, and our community. We are incredibly proud to participate in the 2023 Boone County Day of Service as it gives us a chance to give back and serve our wonderful local community," says Clint Chapman, Festool North America CEO.
Some of the more than 14 organizations benefiting from the Boone EDC Day of Service are the Humane Society of Boone County, The Indy Book Project, The Caring Center, The Shalom House and more.
Find the entire list of company and organization partners here.