Your workplace may have looked a lot different this year…
We've heard it all: transitioning to working from home and leaving the nice ergonomic setup you once had in the office, trying to find ways to work and homeschool at the same time, taking meetings from Zoom, and perhaps never going back to the office!
It's no mystery that everyone's routine has changed… and not always for the better. We are creatures of habit and when those habits get disrupted, it's easy to fall back on unhealthy practices.
So what are some ways that you can make sure that you're continuing to promote good habits that keep you well throughout your workday?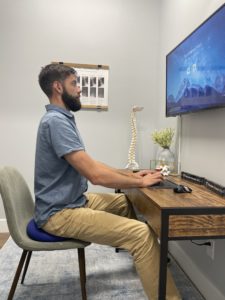 First, let's talk about ergonomics. As Chiropractors, this is our bread and butter. It's a common thing we hear since more people have started working from home. Many went from working with a great ergonomic setup to working on the couch, at the kitchen table, or even from bed. In the short term it can be kind of fun working from bed or the couch but long term these setups are not the best when it comes to supporting your body all day.
So what are some tweaks you can make to your workstation to make it friendlier on your body?
Elevate your screens so that the center of your monitor is 2" above eye level. This will keep you looking up throughout the day instead of looking down. Looking down at a screen brings our head forward and creates a lot of strain on our neck and shoulders.
Avoid sitting cross-legged for long hours throughout the day. Sit with your feet on the floor and your hips about 2" above your knees. This position will take a lot of pressure off your low back and helps maintain a good curve through your lower spine. We often recommend investing in something like a wobble disc to sit on. This device allows you to transform any chair into something similar to a yoga ball chair. It will elevate your hips and engage your core as you make micro-movements throughout the day, which in turn will help support our spines and prevent muscle knots and pain.
Get up periodically throughout the day and stretch! A good one we often recommend is to stand in a doorway with your arms in a goal post position on either side of the door. Lean forward slightly to stretch your pec muscles in your chest. These tend to get tight when we sit with our shoulders rounded forward typing at a keyboard all day. Just be careful to keep your neck and head in a neutral position which will avoid straining your neck as you lean forward.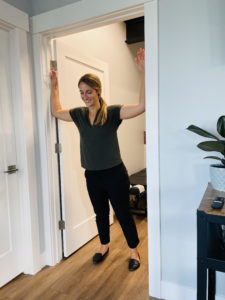 Getting up from your desk at least 1x/hour is incredibly important for workplace wellness. Moving your body increases blood flow and oxygenation of your brain and body! You'll notice that even moving your body for 5 minutes with a short walk around your workspace will allow you to return to work refreshed and ready to focus.
While you're walking, head to the water cooler or the kitchen sink to fill up on water! Hydration is another incredibly important aspect of your wellness. We need water for our body to function properly. You've heard a thousand times how important it is to hydrate so we'll spare you the details on why… but how much water should you be drinking to make sure you're staying properly hydrated? The exact amount varies from person to person, but a good rule of thumb is to try to drink ½ your body weight in ounces every day.
So a 150 lb person should be aiming to drink 75 oz of water per day. Also, caffeine and alcohol are both dehydrating to our bodies. For each ounce of caffeine or alcohol that you're drinking in a day, try to supplement your water intake by an additional 2 ounces to make up for it.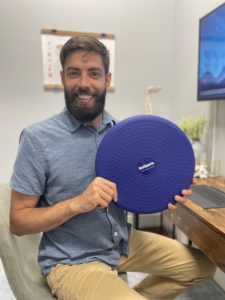 While these are great wellness tips for your physical workplace wellness… we know that overall wellness is so much more than just the physical pieces. In order to be really well, we need to look at other aspects of wellness that contribute to our overall wellness from a holistic perspective. Even if you have perfect ergonomics, drink lots of water, and get all of your steps in everyday –  working from home and the stress of major transitions over the last year has us all feeling more stressed and lonely! True wellness also includes considering aspects of wellness like your mental, emotional, and social wellness.
Working from home makes it a lot harder to connect with people in the ways that we're used to. And so many people are experiencing dreaded Zoom fatigue. So how can we connect and find ways to improve our social wellness? Schedule a walk with a friend, or reach out to someone just to check in. Volunteer at a local non-profit or join a local club / intramural sports team. Scheduling time to socialize helps you to make it a priority.
Needing more support in your mental and emotional wellness?
try habits for stress reduction like deep breathing (check out this blog on "The Power of Breath in Reducing Stress" from Blooming Life Yoga owner, Kristin Barfield for inspiration!)
or talk to a professional (our friends at The Cabin have several great counselors + therapists)
Working on your wellness is an ongoing process. We find that those who continually + actively work on their wellness through lifestyle choices and behaviors are the people that are the healthiest and the happiest! So many of our hours each day are spent at work, it is more important now than ever to find ways to make your work life healthier.
Interested in learning more about wellness? Join us every 2nd and 4th Tuesday from 7-7:30p in our office or live on our Facebook page for our "What is Wellness?" workshop series. We'll be covering the 7 dimensions of wellness and what it means to truly be well in all of these different aspects so that you have the tools and resources to live your best life.
This series will also feature other professionals from our community who specialize in all of these different aspects of wellness.
About the Authors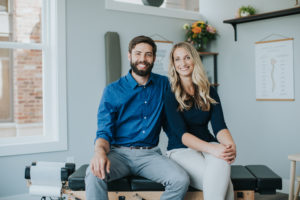 Drs Ben + Danielle Hennes are the Chiropractors and Co-Owners of Foundations Chiropractic in Zionsville. They are a husband and wife team and met while receiving their doctorates of Chiropractic at Palmer College of Chiropractic in Davenport, Iowa. Drs Ben + Danielle specialize in family wellness care and love supporting families live healthier lives together. They value education and empower their patients to understand what's going on with their bodies so they can make better choices for their health. First and foremost – they understand that happy, healthy families are the foundation for happy, healthy communities. 
Dr. Ben enjoys providing chiropractic care to all ages, and is especially passionate about taking care of

 

families and athletes

. Dr. Danielle loves taking care of perinatal women and kids and is currently completing a postdoctoral degree in prenatal and pediatric care through the

 International Chiropractic Pediatrics Association. 

They live in Zionsville with their black lab, Poppy and their orange tabby, Max. In their free time, you can find them at a farmers market, exploring outdoors, cooking up a new recipe, or listening to a podcast.