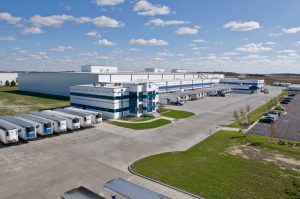 Lebanon, Ind. – The Lebanon City Council has approved incentives for a potential expansion by United States Cold Storage (USCS), provider of logistics solutions to the frozen and refrigerated food industry.
"U.S. Cold Storage is looking forward to expanding its presence in Central Indiana to service our growing customer base," said USCS General Manager Adam Ashley. "Pending final approval, this expansion will bring approximately 30 additional jobs and a significant capital investment into the community. The City of Lebanon has been a great partner as we have worked through this process."
USCS anticipates adding an additional 100,000 square feet to its 200,000 square foot facility, spending approximately $16 million in real property and $13 million in personal property.
"We are excited to have a growing international company like USCS right here in Lebanon," said Lebanon Mayor Matt Gentry. "We have seen an increased number of food-related companies locating in the Lebanon Business Park and are pleased that USCS has found success here."
"I have been impressed with US Cold Storage's service and commitment to quality with both their customers and employees," said Boone County Economic Development Corporation Executive Director Molly Whitehead. "We look forward to welcoming more fast-growing companies like USCS to Boone County."
About the Boone County Economic Development Corporation
The Boone EDC leads economic development efforts in Boone County by cultivating business, workforce and quality of life initiatives. The Boone EDC works alongside elected officials, business leaders and consultants to advance Boone County's economic development goals locally, nationally and internationally. For more information, visit www.betterinboone.org.