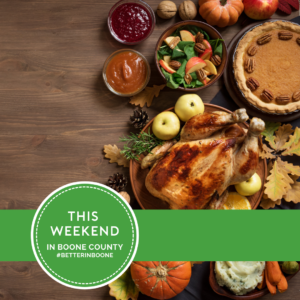 Need ideas for Thanksgiving events this weekend? Check out the local events and activities in Boone County, Indiana!
Thursday, November 24 (Happy Thanksgiving!)
Gravy Chase Run/Walk happening in both Lebanon and Zionsville to benefit the Boys & Girls Club of Boone County, starting at 8:30am.
Free Thanksgiving Dinner at the Advance Fire Station from 11am-1pm. If unable to pick up, delivery is available by calling 765-676-6549 or 317-626-5137.
Free Thanksgiving Dinner at Rock Church in Lebanon from 11am-2pm.
Friday, November 25
Saturday, November 26
Sunday, November 27
Upcoming Events
November 28th: Stop by the Whitestown Municipal Complex starting November 28 and drop off a letter to Santa in his mailbox. A self-addressed, stamped envelope must be included if you'd like a response. Letters dropped off after December 10 aren't guaranteed to receive a response. This activity is for Whitestown residents only. Details here.
November 29th: The Heart of Lebanon is sponsoring a community blood drive. The Bloodmobile will be parked at the Presbyterian Church Pocket Park from 2:00 – 6:30 pm. Every donor gets $5 in Klooz Brewz Cash for their donation! Schedule your donation

here.
Do you know of more holiday or upcoming local events in Boone County that we should know about? Comment below to ensure they are included in upcoming blog posts and social media content!