Lebanon, Ind. – Pleasant Paws Veterinary Care, a veterinary clinic dedicated to providing quality, stress-free care for pets and their families, was granted a microloan from the Boone County Economic Development Corporation (Boone EDC).
"The Boone EDC offers the microloan program as a resource for small business owners in Boone County," said Boone EDC Economic Development Manager Rachel Huser. "Microloans provide convenient start-up options for small businesses seeking funding for specific projects."
Dr. Lindsey Hedges-Gieseking, owner of Pleasant Paws Veterinary Care located at 1375 S. Lebanon Street in Lebanon, received a microloan to expand her services by doubling the space of the grooming area and updating the bathing tub to accommodate large dogs.
"I opened Pleasant Paws Veterinary Care in August 2014 with a dream of running a veterinary clinic with the client experience and patient comfort as the top priority," said Lindsey. "We are so proud to be a part of Boone County, and look forward to many more years as a part of this great community."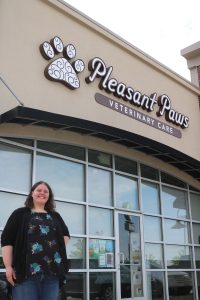 Since 2017, the Boone EDC granted seven microloans to local small business owners totaling $95,000. For more information on the microloan program, visit www.betterinboone.org/microloan.
Pleasant Paws offers grooming services, lifelong veterinary care services, and hospice care services. For more information on the clinic and their hours, visit www.pleasantpawsvetcare.com.
About the Boone County Economic Development Corporation
A strong community is a united community, one that achieves balance between its residents and businesses. At the Boone County Economic Development Corporation, we seek the right economic opportunities to support strong communities and enhance the quality of life for all Boone County residents. We aim to be a catalyst for smart growth strategies. We forge mutually beneficial partnerships with organizations capable of understanding and further enriching the unique assets that the residents of Boone County have built.