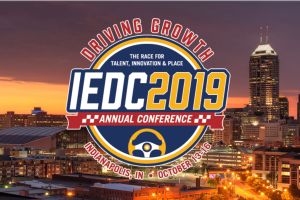 Our Economic Development Manager Rachel Huser and I recently attended the International Economic Development Council's annual conference. This was a good learning opportunity for us, and we're grateful to our partners at Duke Energy, Indiana Economic Development Corporation, and the Indy Chamber for their financial support.
The 2019 conference theme (Driving Growth: The Race for Talent, Innovation, and Place) explored the intersections between workforce development, economic clusters, and opportunity zones as key economic development topics happening in every community.
Here are our top 5 takeaways:
Honing in on how we communicate our value proposition to potential clients. The Boone EDC does quite a bit for current and prospective Boone County companies – WorkInBoone.com, job fairs, the Boone County Workforce Alliance, incentive and compliance assistance, etc. – but we can always improve our message to put us above the crowd.
Changing technology trends. We need to be prepared for the number of jobs in the future that will be even more technology-driven than we are. How can our organization prep our employers and workforce?
Boone County is home to numerous international companies and we've taken several international business development trips to Japan and Canada in the past few years. But, we're always looking to do more, so I was glad the IEDC addressed after care services, common pitfalls, and lead generation specific to international clients.
Fresh marketing ideas. I had the opportunity to catch up with quite a few of my colleagues from around the state of Indiana and see what fun, unique marketing ideas they're implementing (and yes, we might just mimic some of their ideas). But we also had the opportunity to learn from larger cities like Toronto about how they have utilized LinkedIn to communicate their message to corporate clients.
Learning from site consultants. We wrapped up the multi-day conference talking with several national site consultants about their likes and dislikes, how we should market to them, the importance of placemaking, and suggestions for good talent attraction websites.
We were honored to join over 1,400 attendees from across the economic development spectrum at the 2019 IEDC Annual Conference and look forward to implementing our new ideas.