Looking for an inexpensive way to update your home? Painting kitchen cabinets makes a big impact for a fraction of the price of a full remodel. But where to start? Fear not! The Fivethirty Home team is here to help. We answer questions about painting cabinets all the time, and we pulled together, with the help of our friends at Jolie Paint, some commonly asked questions and answers.
Painting your cabinets can be a fast and affordable way to create a fresh new look or add your personality to your home. Because cabinets are usually one of the larger features in any home, we recommend the Jolie Cabinet Guide to aid in a successful and stress-free paint transformation. The guide offers detailed step-by-step instructions and additional information that may be helpful for your project. Another tip for builder style homes is to use your bathroom cabinets as a test project. They are a bit smaller, usually made of the same material and are a great practice piece.
How do I know what type of cabinets I have?
Identifying the type of cabinets is an important first step to any cabinet project, as this will determine whether your cabinets can be painted and what type of prep they may require. Some of the most common cabinet materials include:
Solid Wood – will feel solid and heavy with variations in the wood grain. If you notice any seams along edges or repetitive patterns, it is safe to assume the doors are not solid wood. Typically, you do not need to sand solid wood unless the surface is super smooth or the wood is unfinished.
Painted, Waxed or Varnished – this includes doors that have been previously finished with Jolie Paint or other paint products. Typically, there is no need to sand cabinets that have been previously finished.
Melamine or Laminate – usually have a flat profile and feel like plastic. Flat sheets are glued on top of an MDF base – look for seams along the edges. Lightly sand and allow your first coat of paint to dry for 48 hours.
Thermofoil – often confused with Melamine and Laminate. Thermofoil cabinets have a thin layer of vinyl that is pressed onto the cabinet doors. Thermofoil cabinets are more likely to have beveled edges, whereas laminate/melamine doors are often flat. We do not recommend painting Thermofoil, as it does not usually accept paint long-term.
Powder Coated Metal – will have metal doors with a sleek finish. We do not recommend painting powder-coated metal.
Cabinet face frames and side panels (the structures that hold your cabinet doors and drawers) may be a different substrate than the rest of your cabinetry. If this is the case, it is best to treat them like melamine.
Do I need to sand or prime my cabinets?
Some surfaces (not all), such as melamine, laminate, or super sleek woods will benefit from a light sand prior to painting, as it gives the surface some "tooth" and helps the paint adhere better. Keep in mind that you are not trying to remove the existing finish, just scuff up the surface. Once you sand, apply a single coat of Jolie Paint and let dry for a day or two to allow the paint to begin curing.
You will also need to sand in cases where your old finish is cracking or peeling away. Sand back these areas to remove any loose or peeling paint – if you do not sand, the finish will continue to peel even after you repaint.
What should I use to clean my cabinets before painting?
Cabinet doors and drawers can get grimy over time, so it is important to always clean them thoroughly before painting to avoid adhesion issues. We typically recommend cleaning them before sanding, as sanding can push grime down into the finish.
A grease-cutting dish soap, sponge, and warm water will usually do the trick. You can also use a TSP substitute, such as Krud Kutter, just be sure to rinse with warm water.
Do I have to remove the cabinet doors and hardware?
To paint like a professional, we recommend removing your cabinet doors and hardware before painting them. While this does require a bit more work, you will end up with a more professional-looking finish and avoid the drips and missed edges that can come with trying to paint doors that are still hanging. Be sure to stay organized throughout your project so that you can put your space back together when you are done. Refer to the Cabinet Guide for tips on labeling and storing hardware. You will need a working area to paint your cabinet doors and a place where they can dry flat and undisturbed, so if you only have a small workspace, work on one section of your cabinets at a time.
If you prefer to save time, you can leave your cabinet doors in place. Carefully cover the hardware with painter's tape. Make sure you have a small Artist Brush on hand to paint places that are more difficult to reach.
How much product do I need to order?
To calculate how much Jolie Paint you need. To do this, measure the area that you will be painting to get a rough estimate of the square footage. Consider that you will likely apply 2-3 coats of paint over your surface (unless you are doing a washed finish where one coat is sufficient), so include this in your calculations. Actual paint coverage may vary depending on color, surface, and application.
Square Footage of Project × Coats of Paint = TOTAL COVERAGE NEEDED
After you have taken your measurements and determined the total coverage needed, use the following formulas to determine how many samples, quarts or gallons of Jolie Paint you will need:
Total Coverage Needed ÷ 18.8 sq. ft. (or 13.9 sq. m.) ≈ NUMBER OF 4oz SAMPLES NEEDED
Total Coverage Needed ÷ 150 sq. ft. (or 13.9 sq. m.) ≈ NUMBER OF QUARTS OF PAINT NEEDED
Total Coverage Needed ÷ 600 sq. ft. (or 55 sq. m.) ≈ NUMBER OF GALLONS OF PAINT NEEDED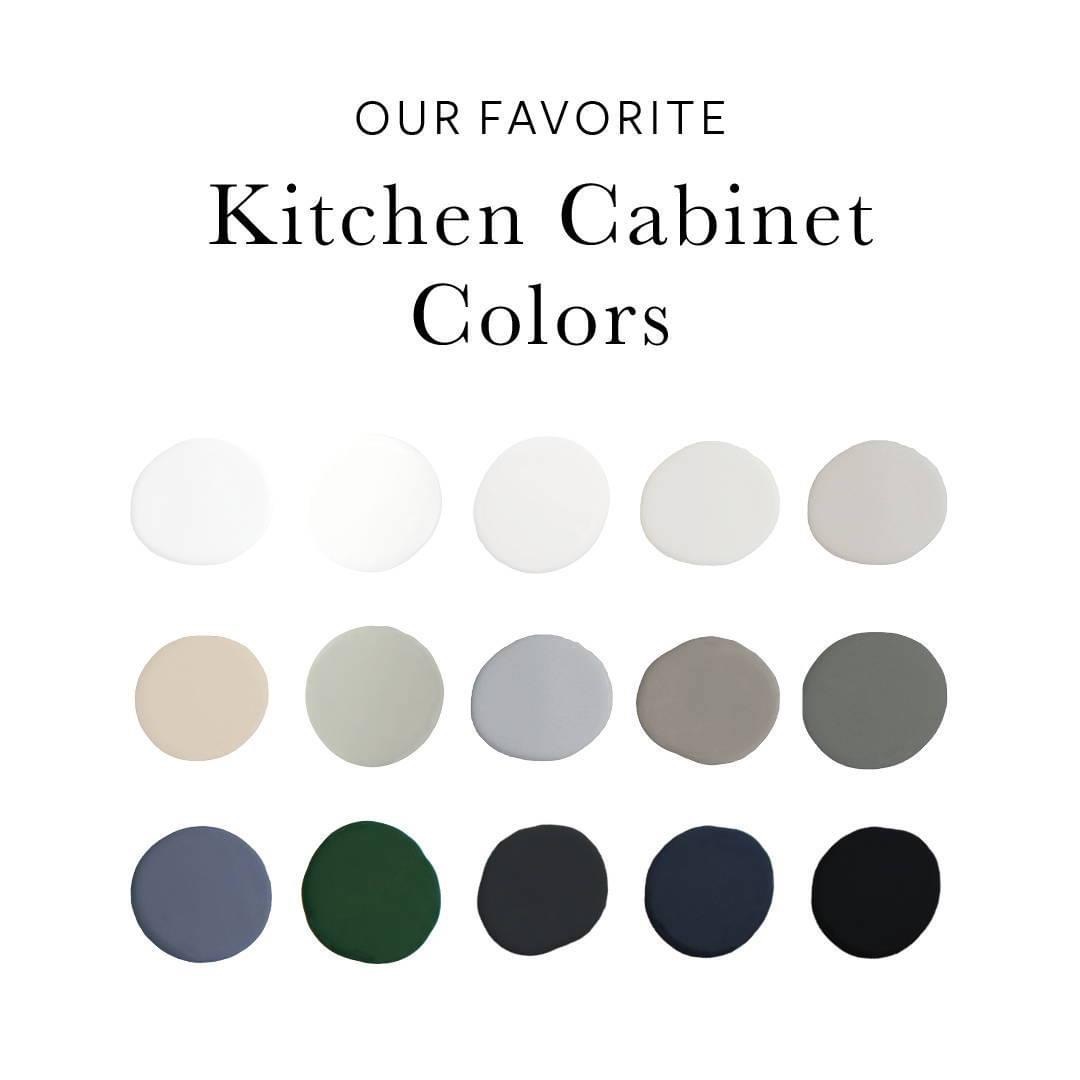 What paint colors do you recommend?
Painting kitchen cabinetry is a big project, so you want to pick a color that you are going to be comfortable living with for a long time. You should also consider which colors will be the best for resale in the event you decide to sell your home. For these two reasons, we tend to recommend going with more neutral colors. Of course, the kitchen is also a space to be creative, so if you are a person that cannot live without color, the kitchen can be a great opportunity to make a bold statement.
Existing Finishes
When selecting a color, you want to begin by considering the hard surfaces in your space that will not be changing. These may include your countertops, backsplash, wall and floor colors. Are these surfaces dark, light, or mid-tone? Are they cool or warm? If your countertops are stone, such as granite or marble, what colors do you see in the shading or veining of the stone? All these elements can inform your decision about cabinet color.
Typically, you will want your cabinets to offer some contrast from the other elements in the space – tone is important. For example, if your walls and backsplash are a mid-tone grey, you probably do not want to paint your cabinets something too similar. Select a color that is either darker or lighter to avoid having all your surfaces compete with one another.
But what about the bright, all-white kitchen? You can get away with having your cabinets, walls and other hard surfaces all the same bright white. However, this rule does not necessarily apply to off-white, as too much of this color can look dated.
Size & Lighting
After taking stock of the existing finishes in your space, consider the size of your kitchen and the amount of natural light it receives. A lighter color on your cabinets is going to give the space a more open, airy feel that can make a small or poorly lit space feel larger. Darker colors, on the other hand, work better in larger, well-lit spaces where you want to create a more dramatic look.
Multiple Colors
Generally, if you have a small kitchen, it is best to stick with a single color on your cabinets, as this will make the space feel larger. Two-toned cabinets, with one color and the bottom and one on the top, essentially cuts your kitchen in half, which can make a small space feel even smaller.
For larger kitchens where you want to add a secondary color, we recommend painting an island or bottom cabinets that stop at the counter level. Kitchens with full-length cabinets (floor to upper level) are not always the best candidates for two-toned color schemes. If you have several floor to upper-level cabinets, for example, cabinet panels on a refrigerator, utility cabinets, or a pantry door, consider doing a wash or a more tonal finish as opposed to a light/dark pairing.
Updating Hardware
Switching out hardware is another easy way to make a kitchen feel like new. We can special order hardware for large projects, just contact us at 3175677781.
Should I use Finishing Wax or Varnish as a topcoat?
This really comes down to personal preference. Of the two topcoats, Jolie Finishing Wax is going to the be the most forgiving. Because it has a matte finish, it is great at hiding brushstrokes and other imperfections. It can be easily touched up in the event of any scuffs or scratch marks. It is also available in a variety of colors that can be used to achieve different finishes.
On the other hand, Jolie Varnish is going to give you more of a hard-wearing finish that will stand up well to constant cleaning. Varnish is a good option if you want a bit more durability or a higher sheen. Jolie Varnish is available in both Low-Luster and Gloss – keep in mind that a gloss finish will be less forgiving when it comes to brushstrokes.
Want some hands-on experience before you tackle the project? Join us for a Jolie Beginner Workshop – sign up in the store or on our website.

About the Author: Erica Carpenter is a home decor maven and DIY extraordinaire. She's also the owner of FiveThirty Home in Zionsville.