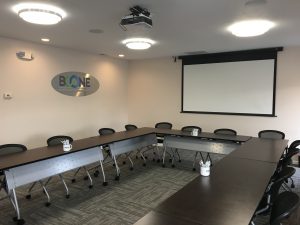 Lebanon, Ind. – The Boone County Economic Development Corporation (Boone EDC) has announced that its conference center located at 2030 Indianapolis Avenue in Lebanon is available for business and professional use.
"We are pleased to offer an attractive and affordable meeting space in Boone County," said Boone EDC Executive Director Molly Whitehead. "It is our hope that Boone County companies and non-profits will find the space to be a useful resource."
The conference center is available during normal business hours (Monday-Friday, 8 a.m.-5 p.m.). The space features 12 modular tables and seats up to 32, comfortably 25. It includes Wi-Fi, a projector and screen with wireless connectivity and free on-site parking in addition to a dedicated restroom and kitchenette.
The conference center is available on a first-come, first-served basis, and it is rented by the hour. It is free for Boone EDC members and Boone County non-profits. For others, the fee is $25 per hour plus a $50 deposit. To reserve the space, please visit www.betterinboone.org/meetings.
About the Boone County Economic Development Corporation
A strong community is a united community, one that achieves balance between its residents and businesses. At the Boone County Economic Development Corporation, we seek the right economic opportunities to support strong communities and enhance the quality of life for all Boone County residents. We aim to be a catalyst for smart growth strategies. We forge mutually beneficial partnerships with organizations capable of understanding and further enriching the unique assets that the residents of Boone County have built. For more information, visit www.betterinboone.org.