At the Boone EDC, we have been fortunate to have two students from Lebanon High School intern with us the past year as part of the School Community Work program. Tyler Welborn and Angie Zheng are both seniors at LHS.
Read about their experience below:
From Tyler:
As a senior at Lebanon High School, I was expecting to gain a lot from the Work Based Learning class, and the Boone EDC delivered. With a close, friendly office I was able to learn about how things really work in the business world.
I learned that business is not necessarily a one-time deal; you have to keep building current relationships in order to help guide you to new ones. The EDC does a great job of that by always making time for their partners. I believe this is one of the main reasons they are so successful in what they do.
I plan to attend college for business, but I'm not sure what kind. With Kim Heffner's marketing expertise and Ben Worrell's broad business background, they have done a great job at giving me different looks at all angles of the business world, and I am very thankful for them giving me an idea for what I want to do.
If I had to pick a favorite thing about my time here, aside from getting to know everyone, it would be the trips that I was able to tag along on. Whether it was to the Makers Space or to Zionsville to watch a news story being shot for later that day, each and every one of them was very interesting and valuable.
From Angie: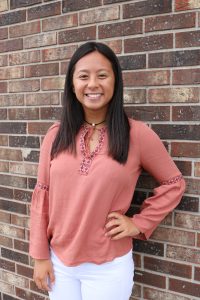 Interning at the Boone EDC was a wonderful experience that I will never forget. I have gained useful skills and learned many new things. Being at the Boone EDC made me realize how excited I am for my next chapter, as I will be attending Indiana University in Bloomington to further my education in marketing.
My time at the Boone EDC has been a fun and eventful adventure. I have written press releases, compiled data, researched new ideas, created social media graphics and much more. I was able to see how all of these projects could possibly play into my future in marketing.
Through this amazing experience my high school and the Boone EDC was able to provide me, I was able to see what the future would be like for me. I was able to see the beginning of a lifelong exciting journey in the business and marketing world, all due to my experience at the Boone EDC.
I am very thankful for this amazing opportunity to be able to intern here at the Boone EDC.