Thanks to our partners at the Indiana Municipal Power Agency, I had the opportunity to attend the Site Selectors Guild (SSG) in Seattle last week. SSG brings together economic development practitioners and corporate site selectors, and presents organizations like ours with the chance to network with peers, improve our messaging, and promote our communities to key influencers.
What I've brought back to Boone County:
We're on the right track with our fresh focus on quality of life. Quality of life should not be brushed off as subjective. The more choices we have locally, the more attractive we'll be to all companies – corporate, IT, and manufacturing.
Community engagement, not just the asset itself, matters.
Time is an incentive. How can we improve upon this?
Workforce development examples
Improving our storytelling on our website & through other mediums – How to interact with decisionmakers and site selectors.
What data is key in our marketing efforts to headquarters & back office opportunities
After the conference concluded, I had a bit of downtime to explore Seattle, and of course hit up the Pike Place Market.  If you've ever been, you may have noticed the two pig statues and the hooves on the ground, which were, I believe, privately funded.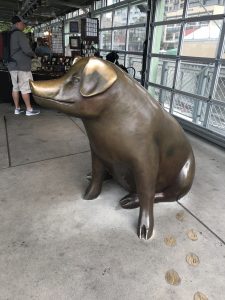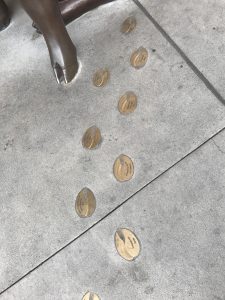 There's a link wall, similar to the Paris lock bridge.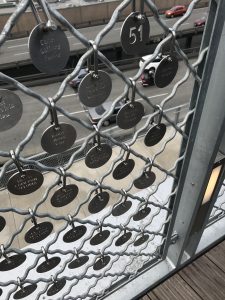 And then there's the gum wall.  Yes, it's a little disgusting, but when in Rome…
The pig statues and the hooves, the links, and the gum wall all have something in common:  the community is encouraged to participate.  As one of the site selectors pointed out, just having an asset isn't enough.  What makes the difference to prospective companies and residents alike is that the community is actively engaged.
We will continue to focus on traditional economic development efforts here in Boone County, but we've also broadened our scope, as we've always intended to do, to include community development.  While I don't think we need a gum wall, I wonder how can we implement similar ideas here in Boone County.  What are those fun ways we can engage our residents and make our community more desirable for corporate clients too?  Art, trails, fun events?  Stay tuned to what's ahead for us, and if you have an idea for how to improve our community, drop Megan an email and get engaged.
And thanks again, IMPA, for this great learning opportunity!