On the evening of October 3 at Zionsville's newest event center, The Zionsville Underground, the Boone EDC and zWORKS joined efforts to host Boone County's first entrepreneurial pitch competition: Pitch Night 2019. Duke Energy was the exclusive event sponsor for this evening of entrepreneurial success.
15 unique and impressive startups applied for the chance to participate in Pitch Night as one of the five finalists. These startups were competing for the chance to win:
The Pitch Night Steering Committee, a four-person team comprised of dedicated community volunteers with entrepreneurial expertise, came together and chose those five impressive startups which stood out in terms of product vision, scalability, traction, competitive landscape, the team members, and an overall success factor. They determined the five following organizations stood out amongst the rest: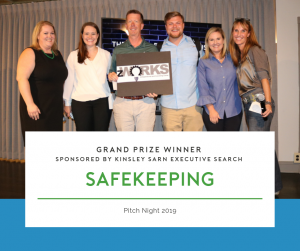 Each startup prepared a four-minute pitch that described their business and product or service in front of a panel of judges. Prior to the event, Sara Norris and her team at When You Leave The Room volunteered their time and energy, facilitating a two-hour workshop helping prepare each pitcher.
Judges included Scott Henderson of Purdue Foundry, Scott Kraege, Trey Buck of Gravity Ventures, Jacob Schpok, of Elevate Ventures, and Jason Whitney of IU Ventures & IU Angel Network. Dan Moyers of 120WaterAudit, as well as avid zWORKS and entrepreneur supporter, participated as emcee of the event.
The Grand Prize was awarded to SafeKeeping, an integrated care dashboard that shares facilities EMR data to improve health outcomes as it connects residents, families, and caregivers to maximize facility ratings, referrals, and reimbursement strategies.
The winner of the Duke Energy People's Choice Award was Revival Recreation, an organization built on taking the stress out of reconnecting in the great outdoors as it promotes stylish camping, made easy as they remove the stress of set-up and tear-down from camping.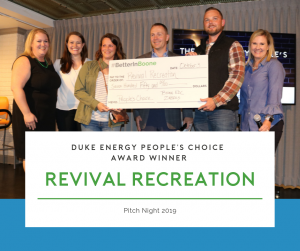 Ultimately, it was a night of great fun, engaging entrepreneurs, and community advocacy as we all heard the stories of five unique entrepreneurs on their journey to success. All very different stories, but one common theme: Entrepreneurs are alive and well in Boone County.
Of course, this evening would not have been possible without the financial and in-kind help from our sponsors as well as the entrepreneurs themselves. In addition to the aforementioned sponsors, a special thank you to Barnes & Thornburg, LLP., Onebridge, Home National Bank, and Allman Johnson CPAs & Advisors for financially sponsoring Pitch Night. Without all of our sponsors, Pitch Night would not have been so successful.
Additionally, thank you to Nameless Catering Co. and Hostetler Public Relations for the in-kind donations, which helped make Pitch Night so remarkable.
Together, we all are making it #BetterInBoone.