With the end of the pandemic and return to normalcy, live music is making a comeback! As someone who has lived in Boone County for the last six years, I have so enjoyed the music scene Indianapolis offers. It goes without saying that Boone County's proximity to Indianapolis comes with a lot of perks. The list of options here in Central Indiana are endless (granted, in a normal year), including different outdoor concert venues (looking at you, Ruoff and Connor Prairie), equity houses (Beef and Boards, Phoenix Theatre, and ATI), indoor concert venues (Old National Center, Clowes, and The Cabaret), and beautiful spaces for classical music (like the Palladium or Hilbert Circle Theatre, home to the fabulous Indianapolis Symphony Orchestra).
And while this summer promises to be a big step up from last year, much remains to be seen regarding live music options across the city. The potentially slow return of live music in some of these spaces could leave us music fans feeling pretty depressed. But thankfully, for those of us here in Boone County, we don't have to go far to experience live music, even in the midst of a pandemic. AND we don't have to fight the same crowds that often accompany locations across Indianapolis. Thank you, Boone County!
From restaurants to outdoor concerts in our own community, Boone is bustling with music. One might even say the corn fields are alive with the sound of music… but that would be lame:)
Let's start with the food scene! I'm a sucker for a good meal, given that I'm a foodie from a family of foodies. The only thing that can improve upon a culinary feast is eating and digesting with live accompaniment. Here are a couple of options in our area:
Pictured: Morgan Taylor at Cobblestone
Cobblestone – Zionsville
Cobblestone offers live music (singer/songwriter vibes + plenty of covers) most Wednesday, Thursday, Friday, AND Saturday nights. The talent is consistently stellar and consistently local. Coming up on July 15, Whitestown's very own Nate Wolf will be performing. I grabbed dinner at Cobblestone a few weekends back and enjoyed dinner & drinks while being serenaded… tasteful, perfect volume for conversation, and quality talent.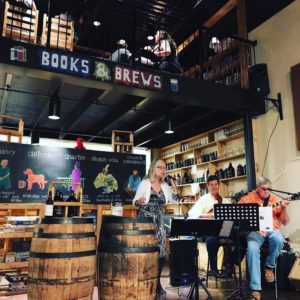 Books and Brews – Zionsville
Monday nights are open night mic at Books and Brews. And every once in a while there's also live music on Saturday evenings. If you're wanting to read, grab a beer, and listen to some tunes, this is the place to be. It is both family-friendly and the perfect place for a casual hang or date night. And while you're at it, you should get up on that stage yourself and give it a try!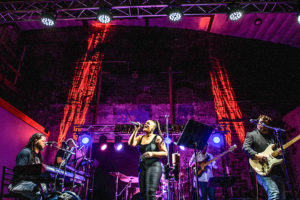 Pictured: Chamber Music Band at Moontown Brewery 
Moontown Brewery – Whitestown
Moontown has become a favorite watering hole not only for the people of Whitestown, but for people all over Indy. Known for their brewpub and simple but satisfying menu, what really sets Moontown apart is the setting: beautiful outdoor seating with fire pits, an indoor bar/dining area, and a concert venue, the 1915 Room. While forced to take a break from live music, it's back! You can check it out here. The next event is August 13, with music by The Why Store Band. The Why Store is led by Chris Shaffer, an intense, emotional songwriter, with Troy Seele, Dan Hunt, and Jerome Rieskamp. He has over 150 original songs and 30 covers. Tickets are $15 online or at the brewhub, but don't wait to buy them – their last show with Moontown sold out quick!
But restaurants aren't the only option for live music, concerts are happening all around the county! Check out these summer concert events:
Pictured: Stella Luna and the Satellites 
 Summer Concert Series
Whitestown hosts its Summer Concert Series every Friday night at 6pm. On Friday, July 2, DUDE! will be performing at the Whitestown Municipal Complex. Come rock out to this party cover band!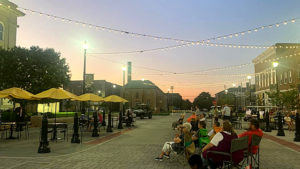 Music on the Plaza 
Lebanon also offers its own music series this summer – Music on the Plaza. Every Friday at 7:30pm, there is live music on the square. This weeks show is replaced by Tim Neuman at the Memorial Park for the holiday, and Music on the Plaza is back next week! Friday, July 9 Lydia Jane with Hometown Haven will bring you classic hits from the 70s, 80s, 90s, and today. Don't miss out on this throwback!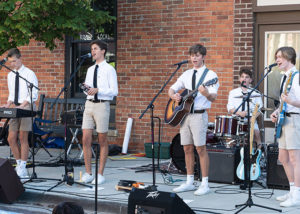 Pictured: The Papercuts at Azionaqua
 Summer Concert on the Lawn
And in Zionsville, the Summer Concert on the Lawn at Azionaqua offers weekly live music on Friday nights as well! This week features Rhythm Section, a student band comprised of 6 musicians with guitar, bass, vocals, and more!.
As we pass the one year anniversary of the start of the pandemic, think back to how those first couple of months felt… the uncertainty, the sudden changes, the significant concerns around what the new normal might be… and remember how we realized all we'd taken for granted. For me, right at the top of that list is the ability to gather with people and enjoy live music, as either an audience member or a performer. Let's all do our part to help bring music back in force here in Boone County, and demonstrate, once again, why things are Better in Boone.