Zack Dafoe, a rising Junior at Depauw University, joined the Boone EDC team this week. Dafoe, an economics major, plans on using his studies to better his community.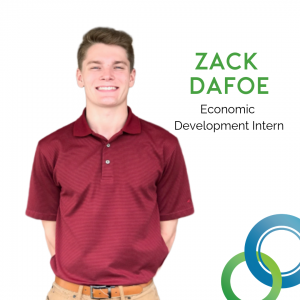 Dafoe will experience various aspects of Boone EDC, and in particular will be assisting Economic Development Manager, Rachel Huser.
What inspired you to pursue economics?
"My interest in financial markets and investing inspired me to pursue a degree in economics. I hope to use this degree to leverage a career in financial services."
What are you looking forward to?
"I'm excited to work for an organization that positively impacts the community where I was raised. At the Boone EDC, my passions for helping others, economics, and management will culminate into a fantastic internship experience and I'm eager to get started."
What are you wanting to learn?
"Being a resident of Boone County, I am eager to learn and develop relationships with local organizations to better improve our community so that businesses and people who reside here can thrive together."
How will you apply this internship to a future career?
"I believe this internship will strongly benefit my future career because I will gain experience in conducting research, working in a small team, and I will sharpen my hard skills prior to entering the business world."