The Boone EDC is pleased to host Lebanon High School senior Mary Brown as part of the Career Engagement program.
Learn more about Mary by reading her blog below: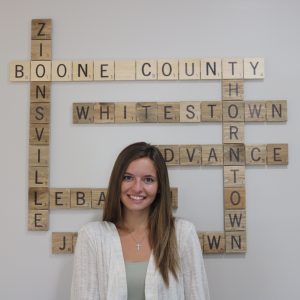 What are your hobbies and interests? 
In school, I am an editor on the Cedars yearbook staff and a member of class council. I participate in clubs such as student council, BCKYLA, and NHS. I cheered for three years of high school and have been a member of the swim team for many years.  
Outside of school, I love to get outside and enjoy nature. In my free time I like to find new places to explore. I am also big on photography, taking senior pictures, engagement photos, and anything on my own. I currently lifeguard and love working around children all day.
What inspired you to pursue an internship at the Boone EDC? 
I have always had an interest in communications and journalism. I wanted to find a place where I could apply my prior knowledge but also pick up on new skills in different categories of work. With this being said, the Boone EDC seemed like a perfect fit. So far, it is going well and I am excited to see what's in store. 
What are you looking forward to? 
Having lived in Boone County, specifically Lebanon, my whole life, I am passionate about what the Boone EDC does for my town. I am eager to witness first-hand how they help the community to grow for the better here. 
What are you wanting to learn? 
During this new experience at the Boone EDC I am hoping to further my learning in communications and graphic design and get a deeper insight on the world of marketing and economics.  
How will you apply this internship to a future career? 
I am looking forward to my time here with the goal of transforming my learnings into positive changes in the community and a revelation of my own future career path.