When you think of an Easter egg hunt, you usually think of kids, the Easter Bunny, and lots of eggs to hunt.
Why create an Easter Egg Hunt for Adults?
A few years ago, at Dull's Tree Farm, we wanted to expand our business into hosting a spring event. As we began to research the idea of doing an egg hunt at the farm, we realized Boone County offered an amazing selection of egg hunts for kids throughout the community. In fact, we even visited multiple egg hunts geared toward kids with our own children just to get an idea of what they offered. After visiting different egg hunts designed for kids, we realized maybe we should focus more on doing something for adults. Again, as we started down the track of researching adult egg hunts, we realized they still weren't exactly what we were looking for at our farm. We wanted it to be a challenge and a fun time for adults to get out either as a date night as a couple or gather up a group of friends for a fun night together.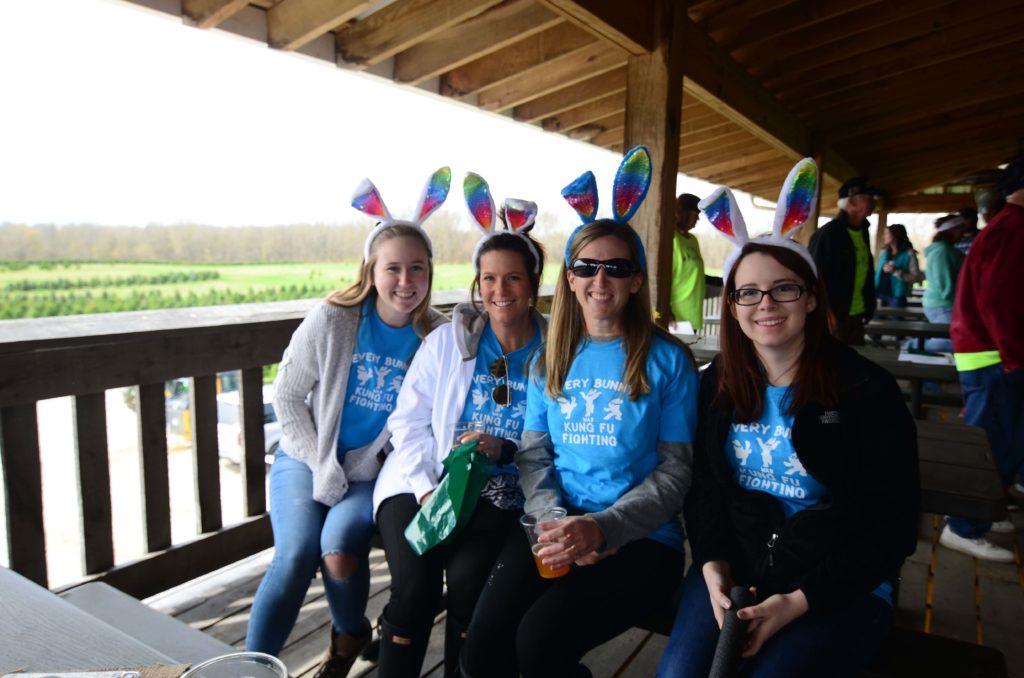 What is an adult egg hunt like at Dull's Tree Farm?
We don't just toss eggs out on the ground and hide them in the Christmas Trees. We have engineered different tasks and unique ways to hide eggs that actually make the hunt a challenge and not just collecting eggs. Teams ranging from sizes of 2 to 6 people find 8 specific egg colors and use hints in those eggs to complete the hunt. Once the team has completed the hunt, they redeem a prize so no one goes away from the hunt empty-handed. To make the hunt even more exciting, we hide camo eggs throughout the hunt area. These eggs are worth prizes ranging from $50 to over $200 in value. We also offer additional activities on the farm and attendees have the chance to win more prizes.
Since this is an adult geared event, we decided to support another local business to put on the event. We partner with Moontown Brewery each year to provide their locally-brewed beers.  Each attendee must be 21 years old or over to attend the egg hunt because each person will receive one pint of beer or a glass of wine from Moontown Brewery with their ticket. We also didn't want our guests to leave hungry so a meal is included with the purchase of a ticket. This year the meal is a pork chop, baked potato, green beans, apple sauce, and roll. For dessert, we have something a little more unique. If you have been to the farm before, then you might know about our stroopwafels at our Sugar Shack. These are a Dutch treat made of two thin waffles and caramel syrup in the middle. We have taken these stroopwafels and made them into a stroopwafel sundae topped with more caramel. It is sure to satisfy any sweet tooth at the farm during the event.

A Growing Yearly Tradition
2019 was our first year to host the adult egg hunt. We launched the event with one timeslot on a Saturday night. Within 15 minutes the hunt had sold out so we added another timeslot for Saturday morning. Due to Covid-19 last year, we had to cancel the hunt. This year the hunt will take place on April 16 and 17. If you are wondering about the time or how to get tickets, unfortunately, all three timeslots sold out within two hours of opening up tickets. So, mark your calendars for 2022 and get a team together! The best way to learn more about this event or see the fun we have on the farm in 2021 is to follow us on social media (@dullstreefarm).
When we started this event, we never imagined the popularity it would have in the community, or in the state!  We have guests traveling two hours to come enjoy the egg hunt with a group of friends. Some of our favorite memories so far from the egg hunt have been seeing friends act like kids together hunting the eggs and watching someone wade in water up to their waist to get an egg out of the creek even though we had provided fishing poles for them. Whether you were able to get a ticket to the hunt this year or not, we hope you have a blessed Easter and hopefully we will see you out at the farm for some of our other events this year!
About the Author
Dana Dull lives in northern Boone County with her husband, Lucas, and three daughters. Dana and Lucas, along with Lucas's parents, own and operate Dull's Tree Farm. She is currently the operations manager at Dull's Tree Farm and enjoys planning each year to have families and friends out to the farm. The Dulls enjoy being outside and working together on the farm to continue to build a wonderful experience for all the guests who visit. Although running a business can take up a lot of their time, Dana and her family enjoy getting out in Boone County and enjoy the different things it has to offer. 
Don't know who Dull's Tree Farm is? We are an agri-tourism farm in northern Boone County. For over 27 years we have sold choose and cut Christmas trees and 8 years ago we expanded into a fall festival. Our Pumpkin Harvest and Christmas Tree season is what we are most known for, but we continue to expand into spring and summer events.