Many people have asked over the years where we purchase the furniture we repurpose and sell at Fivethirty Home. We hunt for special pieces at auctions, estate sales, garage sales and more. Since our storefront opened in 2012, we have also purchased furniture from our customers who were downsizing or moving. In this post, I am going to share one of my new(ish) favorite spots to shop – with the bonus of giving back all wrapped into one experience: Habitat for Humanity Boone County Restore!
Habitat for Humanity Boone County & Restore
The Habitat for Humanity Boone County Restore opened in December of 2018 and serves as additional funding for the larger Habitat for Humanity Boone County organization. Habitat's mission is to build and improve homes in partnership with individuals and families in need of decent and affordable homes.  Habitat for Humanity creates opportunities for people to have sustainable housing by partnering with volunteers, donors, and corporations to break the cycle of poverty.
Since 1984, Habitat for Humanity of Boone County has been enabling partner families to achieve pride in home ownership working side by side with volunteers to build houses.  They have built 64 homes and helped over 200 hard working adults and children with their dream of housing stability.
I was thrilled when the Restore opened just off 106th Street in Zionsville and have made numerous trips since. Do I find something every time I go? No. Is it fun to look while talking with the staff and volunteers on site? Yes! Have I found dozens of great pieces to restyle and sell in the store? Absolutely. Stay tuned for the before, during and after on a gorgeous buffet I purchased at the Restore this spring.
The people pictured are the heart and soul of the Restore operation located at 10650 Andrade Drive. Natalee Baker is the store manager and Dan Monceski is a loyal volunteer. Not pictured are Dara Jones and Roy Cooper, the two on-site employees. This crew along with 8-10 additional volunteers per week coordinate the in-store goings on including customer service, donations and inventory management.
Tips when Buying Vintage Furniture to Paint
As someone who has purchased many amazing furniture pieces over the years, along with the occasional lemon, here are my Top Ten Tips for buying furniture to paint:
+ Look for pieces made between 1930-1990. Anything before 1930 may be an antique and would need more research and potential restoration instead of repurposing. Anything after 1990 may be MDF, just take a closer look. The information may be found one the back of the piece, near the manufacturer plate or require a quick internet search.
+ Is the piece sturdy? Does it wobble and, if so, is it fixable? Give it a gentle shake.
+ Surface imperfections are acceptable, but anything warped, uneven or wavy is a definite no-no.
+ Has the furniture been previously painted? If so, how did they do? If it is a horrible paint job, stripping and sanding will be required. Lead paint on pieces of furniture of a certain era is a concern also.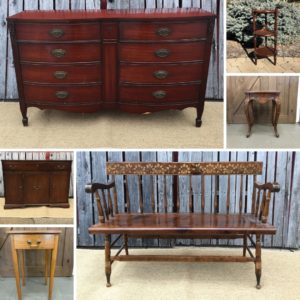 + If the piece has drawers, take a close look at how they function. Pull them out, push them in. Be discerning if the drawers do not close.
+ Take a whiff of the furniture, especially in any drawers or cubbies. Did the previous owner smoke? Is there mildew? Be prepared that some smells are impossible to get out and some may just require extra cleaning.
+ What are the plans regarding hardware? If the existing hardware is to remain, are all the pieces attached and intact? Will it be difficult to replace if required?
+ Look for timeless furniture in traditional, classic style AND interesting, unique statement pieces.
+ Water rings are the most common imperfection but easy to paint over. Do not let those be a deterrent in buying a piece that is otherwise acceptable.
+ Do not expect to buy something every time. Sometimes what you are looking for is not available.
BONUS:
+ Broken glass in a rectangular shape is easy and inexpensive to replace but custom glass is expensive.
Buffet Project
Buffets are some of our most popular sellers — from our first piece to the featured piece here, in all shapes and sizes, they are used in dining rooms, to hold tv's and much more. We are always on the hunt for buffets! Here are a few of our favorites through the years: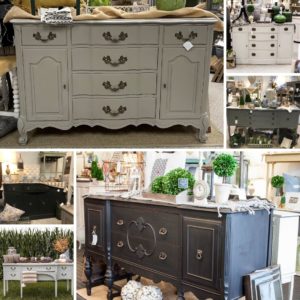 I hopped over to the Restore one Wednesday afternoon and found a buffet to purchase. It met many of my criteria: solid, clean, hardware could be replaced. I paid for it and came back the following week to pick up. The Restore will hold furniture after purchase for up to a week and are open for pick-ups only on Monday (my favorite day to pop back by).
My first thoughts on pieces of this size are always regarding color choice. It is rare for us to choose a bright or unusual color on larger pieces – not sure who is interested in an orange buffet, but we have yet to meet them! I determined it would be a white/cream or black and after checking our current inventory, chose Jolie Noir. It is a beautiful, rich black and was the first black paint available in chalk-type paints. Lisa Rickert, founder of Jolie Home and Jolie Paints, recognized the soft black or dark grays currently on the market were not meeting the needs of consumers and set out to create a true black in the Jolie line. Mission Accomplished! We love Noir and have used it on everything from side tables to crates and more!
After cleaning with soap and water, we gave the buffet two coats of paint on the body and three coats on the top. This was a two-person job because of the lower cross bars and legs. One person tipped the piece forward and back while the other painted. While the piece was tipped, we also turned on our phone flashlight to make sure we did not miss spots. Top, sides, cubbies and drawers were all completed by one person.
Next, we applied two coats of Jolie Clear Finishing Wax. I prefer to use a wax brush and lint free cloth in tandem to complete the waxing process. However, a wax brush is a "nice to have" investment and lint free cloths are sufficient. Jolie Wax also comes in black, brown and white and can be used to highlight any carved or scrolled detail on the piece. White wax can be used to make the lighter colors pop and black wax can be used to darken Jolie Noir.
Finally, we had to make a hardware decision. It took me a little while to decide because this piece seemed too sophisticated and intricate for some of the ceramic and resin knobs I would usually pick. We settled on these metal knobs in oil rubbed bronze.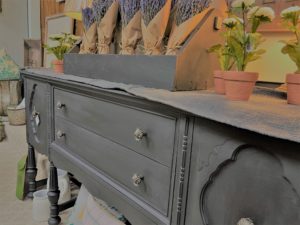 We are so thrilled with how the buffet looks now. It is amazing what a little creativity and a few coats of paint can do! Stop in Fivethirty Home in Zionsville to grab some paint and get started transforming your pieces – see you soon!