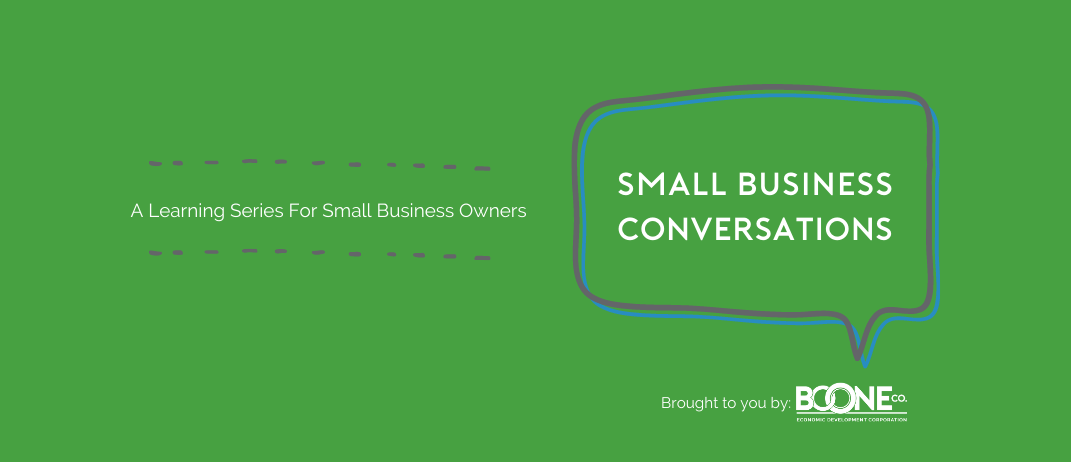 Get the skills you need to run your business without wasting time.
No one told you you would need to be an accountant, social media marketer, IT specialist, and HR just to sell sweaters. Running a business can be overwhelming, we get it.
The Small Business Conversations series is right for you if you:
Are short on time
Feel overwhelmed when tax season rolls around
Have no idea what makes a good Facebook post
Get frustrated every time your WiFi doesn't work
In one-hour sessions, the Small Business Conversations series can help you;
Set intentional goals
Prepare financially for your business
Market to a new audience
Set up much-needed technology upgrades.
We'll save you time, you grow your business. Here's how it works:
Attend a session (or all of them!)
Ask questions that directly impact your business in real-time.
Implement the tips you'll learn.
Learn more about each session below. Questions about the sessions or registering? Contact Rachel.
The cost to attend is $5 per session, Boone EDC Partners attend for FREE! (Want to learn how to become a partner? Contact Molly.)
The Sessions
Each session is held from 10:00 am to 11:00 am via Zoom. Please note, schedule is tentative and subject to change.
Thursday, March 25: The Effects of IT Vulnerability & How To Prevent It
Thursday, April 22: Employee Moral & How To Retain Top Talent
Thursday, May 27:  Public Relations 101: How to Connect with the Local Media
Thursday, June 24: The Financial Wellness 6-Month Check-Up
Thursday, July 22:  Networking Tips to Build Your Customer Base
Thursday, August 26: Ecommerce Customer Target Marketing
Thursday, September 23: Succession Planning & How to Prepare for Emergency Situations
Thursday, October 28: How to Use Social Media To Sell Your Products
Thursday, November 18: Employee Reviews: How to Conduct Annual Reviews
Thursday, December 16: Tax Insights 101: How to Best Prepare for this Upcoming Tax Year