Boone County offers so many opportunities to celebrate Independence Day! Grab a picnic, a blanket and get ready for some fun and fireworks!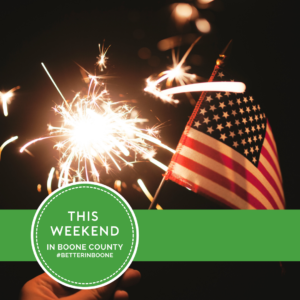 THORNTOWN – JULY 1 (CANCELLED DUE TO WEATHER)
Heavenly Acres Farm, 8241 W St Rd 32
Fireworks at 9:40 p.m.
No cost to attend
Gates open at 6 p.m. at Eagle Church in Whitestown
Food and inflatables (for a fee) open at 6 p.m.
Toy Factory will perform live music from 6:30-9:30 p.m.
Fireworks will begin at dark (approximately 10 p.m.)
Fun Fest at Old Union Church beginning at 7 p.m.
Boone County Fourth of July Parade at 1 p.m. (Parade route: Lebanon High School – Ulen Blvd by park – north on Meridian St – south on East St)
Carnival at Lebanon Memorial Park – 5 – 11 p.m. (Wristbands are $25 / 20 tickets for $25 / $1.50 per ticket)

The Carnival begins on Wednesday, June 28 and runs through July 4

Fireworks at 10 p.m. (Fireworks are launched from Lebanon Middle School. No parking available at LMS)
Food and entertainment at Lions Club Park beginning at 5 p.m. (Parking $8)
Gates open at 4 p.m.
Fireworks at 10 p.m.