Recently, the Boone EDC had the pleasure of attending a Business Growth Workshop offered by The Growth Coach of North Indianapolis, a Boone EDC small business member. This two-hour crash course was an enriching opportunity where small business owners and entrepreneurs were able to spend time working on their business- instead of working in their business. This differentiation is key to generating success.
Bob Paden and his business partner Angie Woods did a fantastic job introducing this concept and allowing time and space to decipher what we believed success meant. If you missed it, below are a few takeaways which I gathered from the workshop, but I encourage you to attend their upcoming event. You can find the info here.
1. Continually examine what you want to achieve with their business.
During this examination, one will need to set metrics on what success will be in 6-months, 1 year, and 3 years.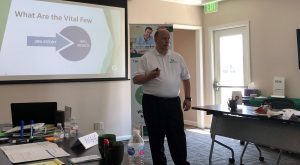 2. Determine what success means.
This will help lead to the vision of your company. From there, establish goals (Specific, Measurable, Actionable, Relevant, and Time Bound) which will deliver on that vision, and initiate tactics which can achieve the goals.
3. When setting up appointments or agreeing to different job assignments, quantify the price of your time.
This helps you to determine if that job assignment is quantitatively worth it. Will you make enough to deem it a good use of your hourly rate? Will you make a profit from this job? A business owners time and resources are valuable, so don't spend it on projects which you do not make a return on.
4. Create an organization which can run on "autopilot." 
At the end of the day, as the business owner, you will be replaced because a business owner will not live or want to work forever. Because of this, the ultimate business goal is to create an organization which can run on "autopilot" and not need you there to make it function.
5. Know your business inside and out.
This knowledge is all circled around the business's cash flow. Each day, you should update yourself with what your business is going to do today to make a profit, what jobs or customers will lead to a profit faster, how much cash do you currently have, and how you will manage your expenditures.
For more details on The Growth Coach, feel free to contact Bob to set-up a time to talk. For insight into their upcoming events, including another Business Growth Workshop on July 24, visit here.